After recording a track , you can publish it on gaiagps.com or share it with your friends via text, email, or on Facebook and Twitter.
Publishing a track
If you would like your tracks to automatically publish on the web, you can turn on the auto-publish option in
Settings
.
To publish individual tracks:
1.
Select the track you want to publish from the Saved list
.
2. Tap on "Publish" in the top-right corner of the screen.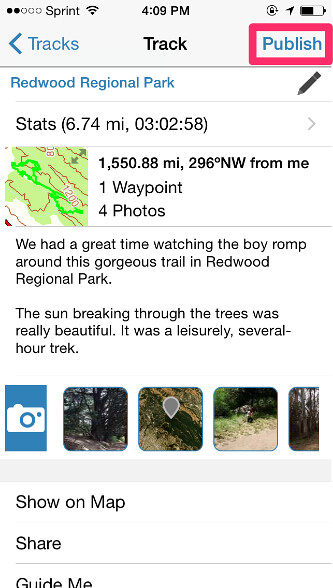 Publish a Track from GaiaGPS.com
Please refer to this Knowledge Base article,
How to Share a Track using GaiaGPS.com
, for instructions on how to publish a track from the website (#2).
Sharing a track
Once you've
synced to the web
, you can select 'Share' from the track's detail page. A link will be generated and you can choose how you would like to share.
Note:
In order to publish or share your tracks, you must have your device
set to sync